Benzgem by GuyDesign® Luxury 03.10 Carat Square Cushion Signature Imitation Diamond with g+ VS Diamond Semi-Mount, Contemporary Elegance Wedding Set, 14k Gold, 10178
10178DG.0972213.81025260.1227903 3.21 Carat Benzgem Signature Imitation Diamond Solitaire with Genuine Precision Cut g+ color, VS clarity Diamonds
I have the Simplest tastes...
I am always Satisfied with the Best
cit. Oscar Wilde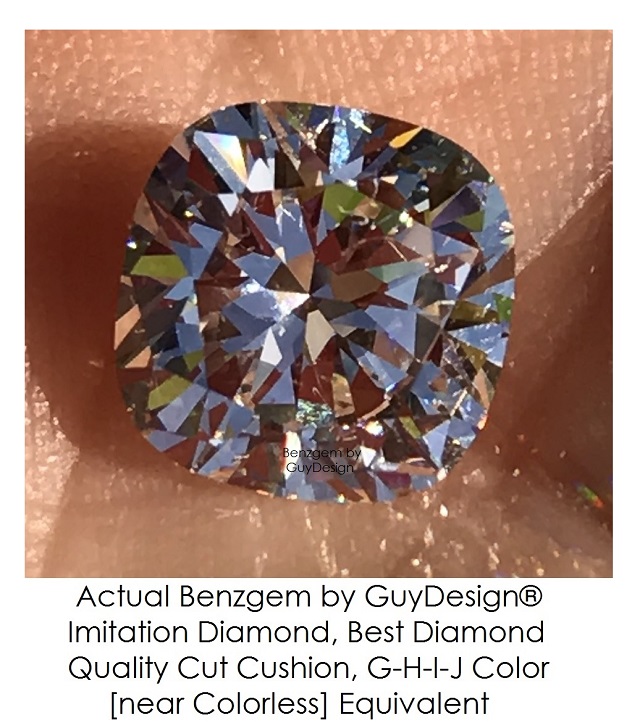 Left – Equal to Type IIa, Colorless, Purest – Completely Clear like a pool of cool water.

Center - Near Colorless – Equal to GIA G-H-I-J Color Range, and

Right - Faint Yellow – Equal to GIA K-L-M Color Range equivalent.

Benzgem is the CLOSEST to any Genuine Diamond available on the Market
Benzgem by GuyDesign® - Best Diamond Copy in the World
Benzgem Jewelry has several Guarantees and Warranties that apply. 1. Benzgem - Cut quality Guarantee. 2. Benzgem - Stone Guarantee for a Lifetime. 3. Jewelry Warranty - Gold or Platinum. 4. Benzgem - Best Guarantee in the Business of Jewelry, 60 Day Money Back Guarantee. Please see Details of each part of the Warranty under, "Benzgem Warranty and Care" heading.