⬬
⬬
⬬
⬬
⬬
Bespoke style Available in Round, Oval, Cushion, Asscher, Emerald, Princess, Marquise, Pear, and Heart Shapes.
Customizable Interface is for Viewing various Attributes for this Style only.
Scroll within The Selection Box up or down.
Scroll within The Selection Box up or down.
• Ring Made in the USA and Photographed in Lustrous Platinum.
• Featuring a 3.21 Carat Realistic and Natural Looking Near Colorless Imitation Diamond.
• Semi-Mount Contains 4, GIA Color G-H, VS Clarity, Lab-Grown Tapered Baguette and 14 GIA Color F+, VS Clarity Round Brilliant Diamonds.
• Wedding bands are sold separately and are Designed expressly for use with this Solitaire Ring.
• Wedding Bands can be customized to Contain similar GIA Color G-H, VS Clarity, Lab-Grown Full Cut Diamonds.
• Priced as an Engagement Ring only - Matching Wedding Band Sold Separately, Design# 682221.3.02021230.122286.3.
• Matching Band is designed to contour to this Specific Engagement Ring.

• This Ring style may be available set with other Cushion Shape Semi-precious and Precious Gemstones, both Genuine as well as Lab Grown Selections and Imitations.
Specializing in Luxury for the Luxurious!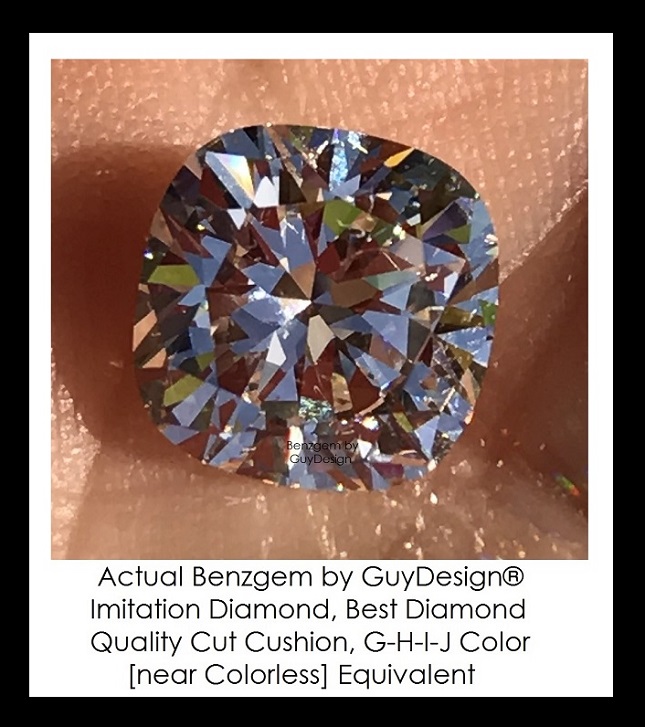 the Finest, most Refined imitation Diamond ever Created...
Benzgem is the certified Best Imitation Diamond ever created and is the CLOSEST to any Natural Mined Diamond available on the Market. The combination of 1. Rough Body Color, 2. Its Diamond Quality Cut and, 3. Clarity make it compatible with the natural mined diamond jewelry you already own.
The Center Rough is the #1 Believable signature of the Benzgem Imitation Diamond. The three uncut rough samples are displayed on a white plain piece of copy paper.
Left Rough - Equal to Type IIa Mined Diamond, Colorless, Purest – Completely Clear like a pool of cool water.

Center Rough,

Benzgem

, is the most

Believable

and

Realistic

- Near Colorless, White – Equal to GIA G-H-I-J Mined Diamond Color Range.


Right Rough - Faint Yellow – Equal to GIA K-L-M Mined Diamond Color Range.
Benzgem by GuyDesign® - Best Diamond Copy ever Created. View the Youtube Video of the Benzgem Cushion Shape in Action, Below. Seeing is believing and Benzgem comes with a 60 day money back Guarantee.